Working drafts of watered and underwater quarries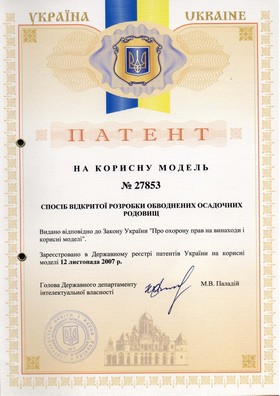 To improve the effectiveness of development of watered and underwater deposits of ore and non-metallic sands can be achieved through the use of technological complexes of extraction and processing (EPC) "pump dredge - slurry pipeline - screening installation." The use of such complexes allows to significantly reduce operating costs, improve the quality and nomenclature of the resulting marketable products. We carry out the designing on the basis of the classification equipment of well-known firms as well as offer our own innovative developments adapted to domestic operating conditions and are characterized by sufficient efficiency at much lower financial costs.
A list of the main works performed by us is given below.
Working design of the site for the preparation and shipment of red mud: the development of slimes from the sludge collector for their economic use.
Feasibility of the working design "Balabanivka sand quarry".
The project of pilot commercial development of site "Komintern-1" of Oleksandrivka sand deposit.
Working designs of the East Bug (site No. 1), Oleksandrivka (sites "Novyi" No. 2, "Komintern-2"), East-Bug-2, Pidgorodnyansky sand deposits development.
Feasibility of the rational parameters of the complex for cleaning of the sludge settler TSGOK.
Feasibility study of the development of Birzulivka ilmenite deposit in Kirovograd region.
Oleksandrivka sand quarry. Hydro-mechanized sand development. Reclamation of lands disturbed by mining operations.
Conceptual technological solutions for the development of the Velun field of construction sand.
Development of the East Bug sand deposit by hydro-mechanized method 
Development of sites of Oleksandrivka watered sand deposit by hydro-mechanized method